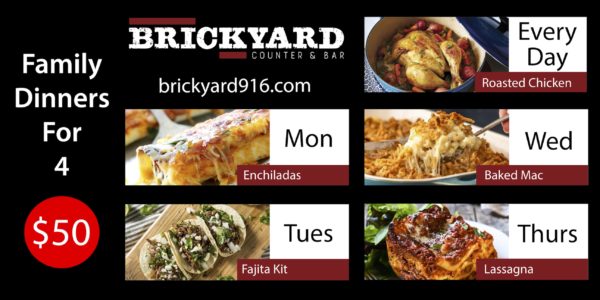 Family Dinners Togo for 4
NEW Family Meals!
Chef Joe and Heather have created five new awesome family style togo meals that will feed a family of four for only $50. Our smoked chicken family dinner is available everyday and we will rotate the other family meals each day.
Tricia and Heather are here today taking phone/online orders and filling your growlers for as low as $20. Order one of these family meals through our website tonight and help us keep Brickyard around through Covid-19. We really need your support. We'd love to see all of you that make Brickyard great!
Order Now: Order Now
**All Family Meals Serve 4 people. Available togo.**
Whole Chicken Dinner (Everyday)
– Dry rubbed and smoked to perfection whole chicken
– Green beans and bacon
– Rice with shallots and garlic
Baked Mac & Cheese
– Ooey gooey baked mac & cheese
– Green beans and bacon
– Family salad
Family Lasagna
– House made turkey lasagna
– Brickyard cheesy garlic bread
– Family salad
Enchiladas
– 4 enchiladas stuffed with tinga chicken and cheese smothered in our house-made enchilada sauce
– Served with rice and beans
Fajitas
– 1 pound of sautéed chicken, bell peppers & onions
– 1/2 pound rice and beans
– Pitas, cheese & serrano aioli